Books are magic. By opening a page, they cast a spell that transcends you from one world to another. There's no denying that the best of places can be reached through the parallel paper universe. But, what happens when you want to make the story a reality? Where do you go?
Well, it may surprise you to discover that your great escape is already written on our blue marble. No incantations required. The power lies within you to make it happen.
So come forth, fellow bookworm, and delve into the pages of the globe, for they possess the knowledge that you seek…
Outlined below are some of the best destinations every book-lover should explore.
USA
      
Welcome to the land of opportunity! A country of many cultural achievements and famed for its glitz and glamour, the U.S. is home to so many extraordinary things. From the stone-carved presidents in Mount Rushmore, its endless impressive landmarks and postcard-perfect city skylines, you'll find it hard to run out of things to do if you visit America. Especially when you see its library too…
Suzzallo Library (Seattle, Washington) – Harry Potter fans will love the Collegiate Gothic style of the building. It truly is like walking into Hogwarts! And even if you're not a devoted "Potterhead," you'll be astounded by both the interior and exterior of this staggering library. Read the books, re-enact wizardry or simply admire the surrounding views, whichever direction you go, this architectural treasure is sure to put a spell on you.
Find out more about visiting by clicking here.
UNITED KINGDOM

Have the most royal of travels surrounded by picturesque countryside landscapes and historical landmarks. A story of majestic quintessence awaits you.
Trinity College (Dublin, Ireland) – Arched tunnels as far as the eye can see beckon to be explored. Homing ancient texts and thousands of precious literary rarities, it's no surprise that the Old Library is one of Ireland's biggest tourist attractions. Avid Star Wars fans may also notice how much the library's Long Room bears resemblance to the Jedi Archives in Episode II, Attack of the Clones! However, as remarkable as that is, apparently, this was not a deliberate move. Nevertheless, should you desire to indulge in your space-opera dreams or engage with your inner-philosopher, Trinity College makes the perfect inspirational setting.
Find out more about admissions by clicking here.
Chatsworth House (Bakewell, Derbyshire) – Home to the Duke and Duchess of Devonshire and passed down for 16 generations, Chatsworth House is renowned for its regal antiquity and classical design. It is also the home of fiction favourite, Mr Darcy! When Jane Austen's famous novel, "Pride & Prejudice" was pulled from page to picture, Chatsworth House was the chosen filming location for his home (Pemberley) and many of the rooms you'll wander through will be where scenes from the timeless classic were brought to life.
Find out more about this beautiful place by clicking here.
Barrister's Book Chamber (Retford, Nottinghamshire) – A place for the eclectic reader, this vintage book shop in the quaint town of Retford offers a classic escape from the modern world. Plus, if you're lucky enough, you may even get the opportunity to have a cup of tea and slice of cake with your favourite author there! Realising your literary dreams has never been more colourful.
Find out how to step back in time by going to their website here.
CZECH REPUBLIC
An architect's dream and a historian's playground, Prague is more than just the heart of Europe – it's a time-tunnel in all its forms. Immerse yourself in the arts and culture, dance to the beat of the street or unwind your mind as you watch the technicolour sunset by the riverside. Wherever you choose to voyage in this city, it's certain that your soul will be filled with happiness.
Klementinum (Prague) – No visit to Prague would be complete without visiting the world's most beautiful library. So should you find yourself in the historical centre, make it a priority to visit its beating heart. Tour the beautiful baroque world in awestruck wonder and transport yourself to a place Belle would be proud of. The Klementinum's centuries-old history is sure to unfold an emotion in you long-lost in the present-day.
Find out how to quickstart an experience that'll leave you starry-eyed by clicking here.
SOUTH KOREA
Notoriously fascinated by technology and for bringing the song "Gangnam Style" into our lives, Korea is all about configuring the unexpected, and their library is of no exception.
Starfield Library (Seoul) – Have your mind blown by gigantic 13m tall bookshelves and the sight of more than 50,000 books and magazines. You'll be grateful this public space meets library has a wide open area for you to sit down and unwind in – you may need it to recover from the shock! There's a good reason why this library has been awarded a certificate of excellence. But don't just take Trip Advisor's word for it. See it for yourself!
Find out more about the plethora of awesomeness inside by clicking here.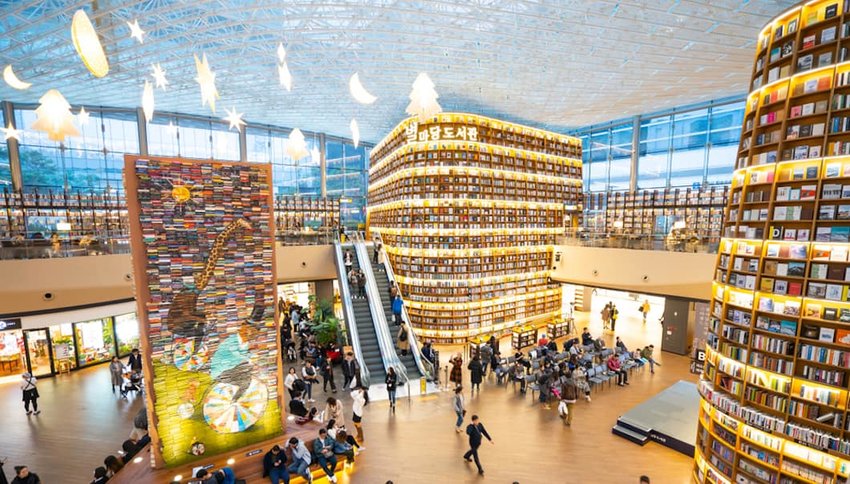 AUSTRALIA

Go for the countless natural wonders, stay for the libraries! This is an island that is both country and continent, and it offers so much more exciting things than just Vegemite.
State Library Victoria (Melbourne, Victoria) – Enter a space of marble, towering domes and archaic design. The State Library (Established in 1856 as The Melbourne Public Library) is Australia's oldest public library and is also one of the first free libraries in the world. But, more importantly, it just so happens to be absolutely magnificent. Beyond the decorative portico reside 12 breathtaking rooms, each one filled with an experience that will fill your soul with joy. Take in the South Rotunda gallery's art or relax in the Redmond Barry Reading Room with a magazine. Whatever you choose to do, roam it with passion.
Find out more about their events and exhibitions by clicking here.
Green Square Library (Sydney) – Step into the future through a 6-storey glass tower. The most modern on the list, Green Square Library is Sydney's innovative underground library and offers a multitude of contemporary spaces. Why not hire out the music room and play the baby grand piano for an afternoon? Or maybe you'd rather watch the world go by from your window seat beside the rainbow bookshelf? No matter what you decide, guaranteed, there's something for everyone to enjoy.
Find out more about hiring a space by going here.
All that's left to ask now is, which one has inspired your life's next chapter…?